Appliance Repair or Replace?
How many times are you faced with the question, "Should I call an appliance repair service company or should I just buy a brand new appliance?"  How do you know which is the best choice for your situation?  The answer to me is very simple, but I've managed to turn it into a whole article for you to read.  I've been in this business for over 30 years and the advice I'm about to give you is my honest opinion of what I think is in your best interest.  It could be that you have a refrigerator not cooling or a dryer not heating or a dishwasher not cleaning or a washing machine not spinning or it could be any problem with any major household appliance you own.  If you follow my advice, I know for a fact that you will save money!!  That's a pretty bold thing to say, but remember, you have to follow my advice for it to work!!  You can see my article by clicking on to my blog post titled "Appliance Repair or Appliance Replace?"
Best Appliance Tips To Make Your Home Appliances Last Longer
Home appliances are an expensive investment and the quality of todays appliances are not what they used to be.  Remember when your mom & dad's washer & dryer kept going & going and they never seemed to need an appliance repairman?  Today's appliances are not built to last but there are some things you can do to get the most out of your investment with fewer repairs.
Top 5 Appliance Tips To Increase The Life Of Your Appliances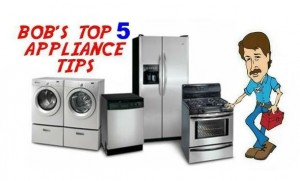 The five most important household appliances in everyone's home would have to be the washing machine, dryer, refrigerator, dishwasher and oven/range. I've been repairing appliances for over 30 years and after careful consideration, I've come up with what I think are the best appliance tips for keeping these machines going. Take a look at my article titled "Top 5 Appliance Tips for Making Your Home Appliances Last Longer".